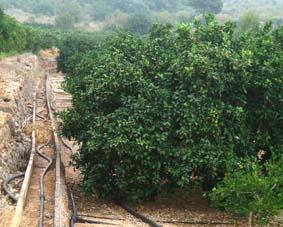 This page heading isn't exactly true, because the hoped-for visit during my Spanish holiday in August 2001 never took place!
IVIA, the INSTITUTO VALENCIANO DE INVESTIGACIONES AGRARIAS, holds one of the two largest citrus variety collections in Europe. It is matched only by the one at INRA, Corsica.
Unfortunately, most of the staff of IVIA were themselves on holiday and no-one was available to show me the citrus collection. Next time, perhaps I will be able to visit at a better time of the year.
So, until then, I've included a few general photos of citrus groves around the resort of Javea, or Xabia, about an hour's drive south of the city of Valencia.
Notice in the third picture, how the original water irrigation channels have been superceded by plastic pipes.
IVIA and Citrus in Valencia
page created 8th August 2001
retrieved 26th April 2023